Benefits of buying original art
Original art seems to be on everyone's lips these days. It is praised and marketed by many different online and offline galleries and platforms in very different price ranges. But what does it really signify? It is used succinctly and for that reason sometimes art enthusiasts don't really know what they're buying exactly. For that reason we have put together a short guide for you about what to look for when buying original art. Not only that! We'll also give you some good reasons why buying original art - when done right - is one of the best options you can go for and why cheap posters by a well-known Swedish furniture supplier shouldn't be on your shopping list.
Original artworks are created directly by the hand of the artist. They are not original because there is a unique idea at their heart but because they are one-of-a-kind and created by a more or less established artist. This is easy to understand when thinking about paintings or sculptures. However, prints for example can be original, too. The condition is that the artist him-/ herself was involved in their production. Original fine art prints (link to prints blog) usually come in limited editions and are signed by the artist as opposed to usual prints or reproductions that are produced in unlimited volumes. Usually, the price of an art piece is a good signifier of the originality of the work when buying original art. If it is suspiciously affordable you can be quite sure that it was rather produced by a machine than the clever hands and creative mind of an artist. The reasons why original art is more expensive than mass-produced pieces are mainly the huge amount of time and effort the artist spent to create the piece, its scarcity and the unique quality of an original artwork that a machine will never be able to imitate.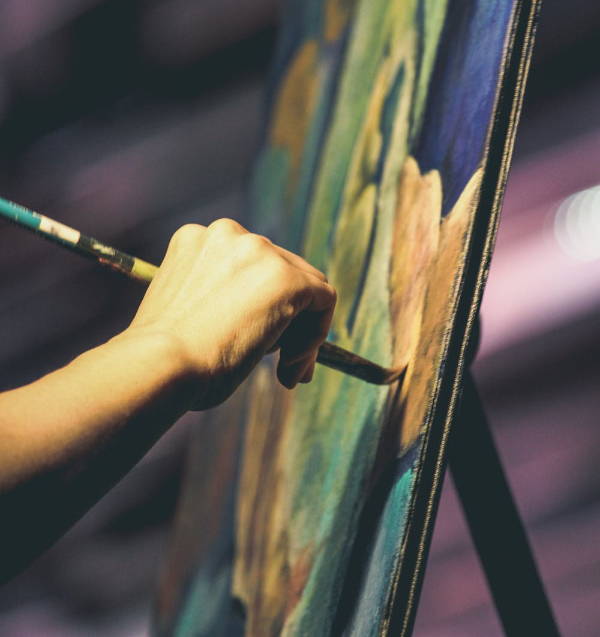 Is buying original art a waste of money?

You're looking for ways to create a unique & individual living space but you don't have an extravagant budget? A seemingly easy solution for many is buying posters or affordable prints - and hip poster retailers come in crowds these days. Is it really worth it though spending your money on mass-produced pieces which after a couple of years will fade in colour and be chucked in the bin? Probably not. Rather than spending money on a bunch of printed paper that will never have the chance to grow in value, we recommend to invest in one original eye-catcher piece.
Benefits of buying original art

There are many benefits to buying original art - and it doesn't even have to completely blow your budget. If you go for original pieces by emerging artists that are just starting out their career you can make really great deals. Here are the five main benefits of choosing to buy original art over reproductions:
One signifier of quality that original art possesses is its depth. Looking at a hand-painted canvas you will get a three-dimensional feel and it will simply draw everyone's attention to it when hung prominently in a space. When looking at mass-produced prints that were created with cheap inks instead of well-chosen quality materials however, you will likely be able to see the pixels and the whole impression will be very flat. An artist will carefully choose the colours he or she uses and you will be able to trace the movements the brushes left on the canvas. Aesthetically this will be a way more pleasing and long-lasting experience and you will be able to discover new exciting aspects of your original artwork with each time you look at it.
ARTPIQ original: "Sunset lover" by Theresa Kallrath
2. Emotional connection & Self-expression
When asked about their first original art purchase people often describe that they have simply fallen in love with the artwork as the main reason for having bought the piece. You will rarely come to hear that about a cheap floral print that was bought in a hurry before the store closed. Due to the fact that original art can be slightly more costly most people have thought about buying an original art piece for quite an amount of time. For this reason the final purchase is a much more exciting and long-awaited experience that creates a special, individual bond with the artwork. You have fallen in love with the artwork, not only because you find it aesthetically pleasing but because it's a visual representation of a specific feeling, memory or philosophy of life that you hold closely. And the most wonderful thing is, it's not only a form of self-expression but a shareable experience that connects you to other people. The cherry on top of the cake: An original art piece in your living room can be the perfect conversation starter. Speaking about connection, buying original art from an emerging artist will not only give you the chance to share your beliefs and philosophy with friends & family but in contrast to a cheap print will also connect you to a living artist whose development you will be able to support and follow.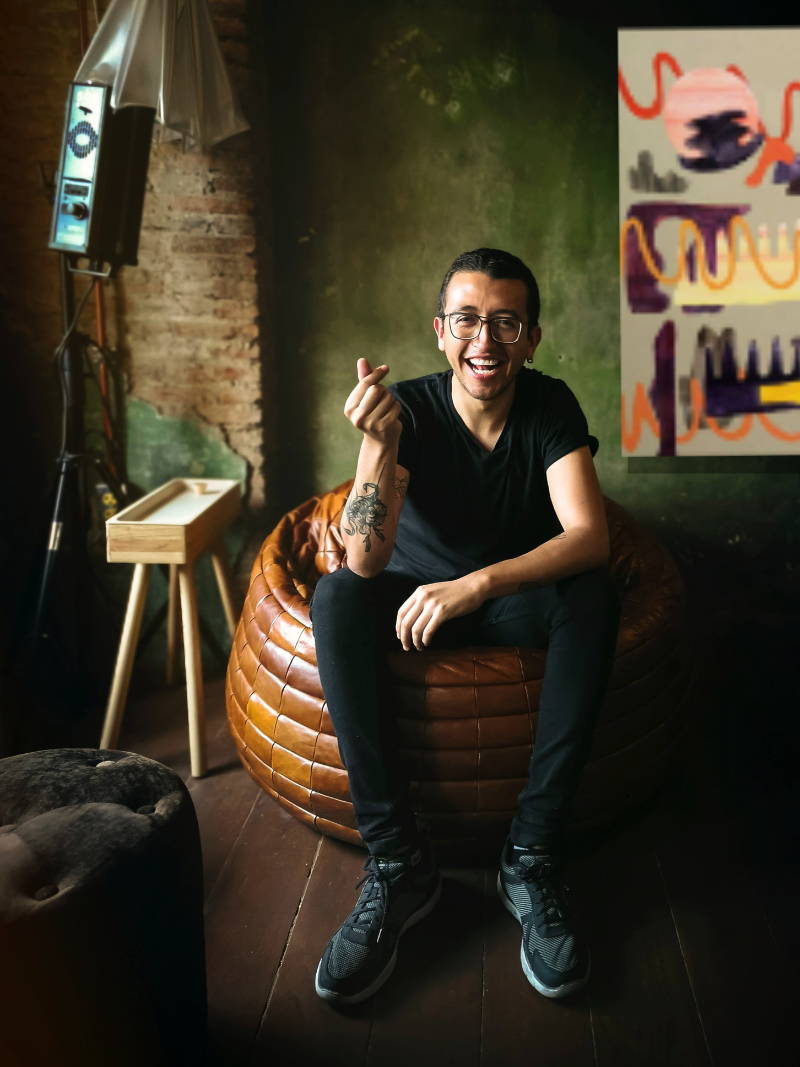 Many studies have shown that art can improve our well-being. According to Worldhealth.net stroke survivors who like art even enjoy a significantly higher quality of life and recover better from their stroke. Why is that so? Art touches us emotionally and often gives us an impulse to reflect our buried emotions and communicate with other people. Having an original art piece in our home or office will shape the whole atmosphere and can even inspire us in moments of boredom or listlessness. It can make a dull room shine with colours and give a motley space a calmer feel.
When buying original art straight from a gallery or an artist there is always a good chance that the piece will grow in value over time because of its uniqueness and the successful development of the artist who created it. Buying original art is an investment and we would recommend to really think through which piece you want to go for. Most galleries, both online and offline, have great art advisory services that will help you find the right piece and determine if there are good chances that the artist will develop a healthy career. Some indicators that you should look out for are the education of the artist - has he/she studied at a renowned university? The artist's past exhibitions - has he/she shown works in prestigious institutions? And finally the artist's representation in private and public collections - is there a lot of interest in his/her work? Keeping these in mind there stands nothing between you and your first successful art purchase.
When buying original art from an emerging artist - which is a great affordable option - you're not only purchasing something with an inherent possibility for value-appreciation but you also financially support a young artist that you believe in. Most artists struggle at the beginning of their career, because studio rent is high and their outreach is limited. Buying their art makes it visible to a broader range of people and will often help kick-start the artist's career.
ARTPIQ original: "Two Men" by Hector McLean
Where and how to buy original art?  
If you're quite new to buying original art it can be difficult to know where to start. As many retailers often arbitrarily use the term "original" you should be careful where to invest your money.
Generally, there are many different ways to start buying original art:
Art Fairs - here you can also find affordable fairs showing emerging artist's works

Art Galleries

Open studios

Online - be careful though and look for art that comes straight from the artist studio
A good advice is to develop a conversation with the artist him-/herself, the gallerist, or the online gallery you're buying from. In this way you can ask for more detailed information on the artist's background and you will get a feel of what kind of person or institution you're dealing with. Get in touch today to receive free advice from our curators at ARTPIQ.