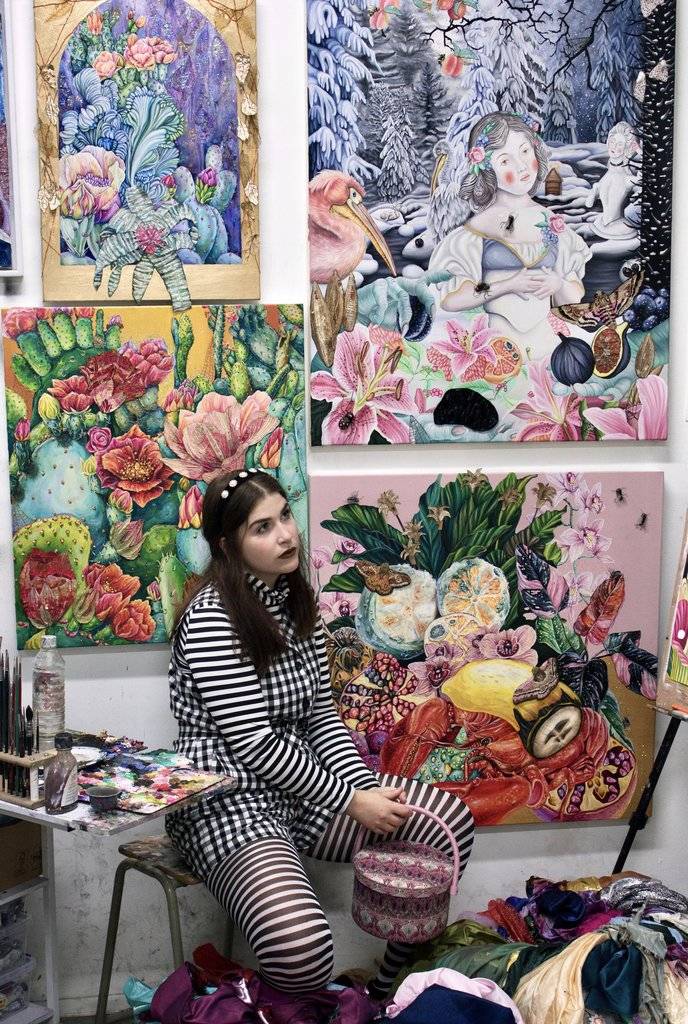 Artist Interview – Aby Floyd
At ARTPIQ, understanding art isn't only about trends, styles, and colors. Understanding art is also about the artists, their motivation, their stories. That is why we feature our artists on our blog so that you can better understand them, and, by doing so, better understand their art. Below is our interview with Aby Floyd!
Where do you come from and where do you now call home?
I am originally from a small village in Somerset called Cheddar… where the cheese comes from!
I moved to London when I was 18 and have been here for nearly seven years now, I absolutely love it and definitely feel like it is my home.
 Where did you study?
I studied Fine Art Painting at Wimbledon Collage of Arts, which is part of University of the Arts, London. I am hoping to start an MA in London within the next couple of years!
 What influence did your studies have on your art?
Moving from a small village in the middle of the countryside to the creative hub that London is, I think the main influence I found my studies had on me was the exposure to the artistic world.
It was incredibly inspiring to suddenly be surrounded by art and artists and the course really encouraged you to explore the city and immerse yourself in the culture it has to offer.
Wimbledon also had a huge textiles, theatre, prop and costume department which I was in awe of and most of the work I made at university was textiles and installation work that were influenced by these theatrical elements. I did some painting, but my practice wasn't focused on painting like it is now. I only picked up oil paints two years ago and I have been working hard on that technical aspect of my practice, although I have plans to bring some of my university influences back and combine textiles and installation more cohesively with my painting.
Describe a little about your style and method in laymen's terms. You work with bold colors and strong natural elements – how did you develop this style?
My style is figurative and vibrant, sometimes whimsical and playful, sometimes opulent and garish, depending on the series I am working on!
I think I developed the style from my love of collage and image collecting. I love human obsession with collection and curation, and I do this constantly with images, especially imagery from the Victorian era and of natural history. I have ideas that I nurture in my head and will collect hundreds and thousands of images that relate to the idea I have. Then I do a back and forth of drawing and collaging until I have my image. Recently I have started to bring the drawing aspect more into my planning to break my work up, as I suffer from horror vacui a bit (fear of empty space), so I always fill my paintings with as much stuff as possible! I love the gluttonous, excessive quality that gives but I am also on the quest to find a balance and I am enjoying the freedom of trusting my drawing more.
I always love my work to have textiles elements (usually embroidery, applique or tiny textiles and polymer clay sculptures), and some sort of magpie attraction, whether that is gold leaf, iridescent medium, metallic paint, glitter, Swarovski crystals or jewels. I guess it is that theatrical element and focus on materiality that I always strive for!  
You also see a lot of human elements in your more recent work which combine with the nature. What is your thought process behind that? Is there a deeper meaning to that?
I have recently been re-evaluating my work in terms of how it reflects my influences and what purpose I want it to serve.
I am influenced by human relationships to the Sublime and also human relationships to objects and how objects can capture the spirit of a person. I have researched the aesthetics of Kitsch over the years and how this is fueled by our ability to find faux sentimentality in things, these both link back to my obsession with collection. I like leaving certain objects that belong to people in my paintings because it is as though the ghost or memory of them is there.
However, I also relish work that is narrative, and I want to invite the viewer to look into a world which is a constant, living, evolving microcosm in my head. Me slowly bringing these human elements into my practice is me slowly introducing the characters I want to start including in my surreal natural worlds, as I think the works are currently missing the figures that inhabit it and will give my environments more of a voice.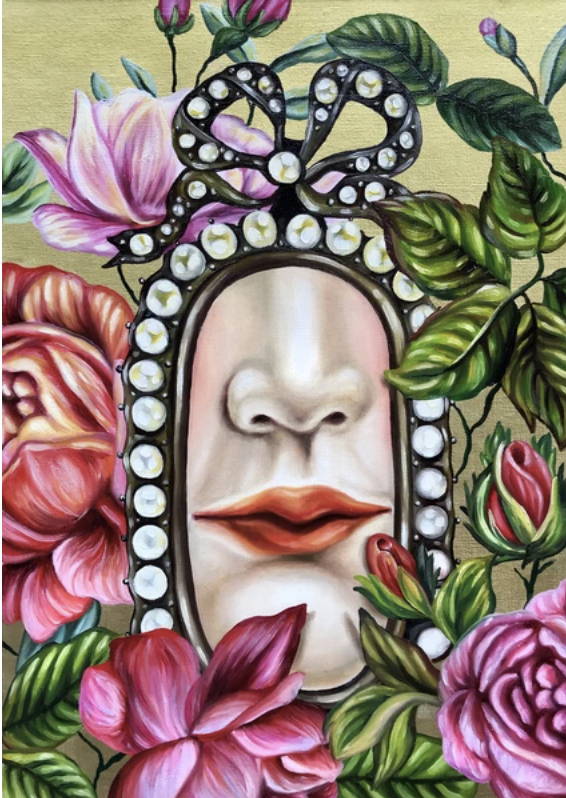 Who are some of your favorite artists that you look up to (either from the past or contemporaries, or both)? Why?
I couldn't possibly answer this question in full as there are so many!
However, my favorite living artists are probably Dominque Fung, because her painting ability and color theory is out of this world, Simphiwe Ndzube, because of his fantastical landscapes and use of textile sculpture on his paintings, Julie Curtiss, because of her fascinating characters and smooth textural marks, and Alexandra Levasseur because every single one of her pieces takes you on this beautiful, dream like journey and combines different mediums in such skillful and considered ways.
In terms of from the past, I have always been inspired by William Blake, Hieronymus Bosch and Leonora Carrington!
The first artist I ever remember liking and am still obsessed with now, is Mark Ryden, because he has succeeded in creating an entire inhabited world built off of his obsessions (including collection)!  
What would you tell an up-and-coming artist that wants to make art their career?
Work hard! You have to be dedicated to your practice, live and breathe it. And if you are at a block and feel you cannot work, make sure you nourish your creative mind in other ways, even if that is just well-being or socializing, realize what other factors are important to your creative process and don't be too hard on yourself about them. I have really learnt this over the past year.  
What are your plans for the future? Do you see yourself continuing to work in this same style or do you ever feel the need to change things up?
I think I will always work in the same style because I probably couldn't change that if I tried, it is so ingrained in me... However, my next series of work is quite different because I am working mainly from drawings and references opposed to collages, I am hoping this will give me a bit more freedom in terms of surrealism and relaying the narrative or world that exists in my imagination. I am also going bigger so that the work will have some breathing space alongside its hyper detailed sections. And this series of work will have full characters in it which I am very excited about.
Alongside these paintings, I have planned to make a painted costume and installation environment so that I can bring back the immersive, theatrical elements that allow a painting to exist outside its canvas. I hope that everything I have learnt over the past couple of years is finally going to come together in this series and I cannot wait!